The Snjafjallasetur Heritage Centre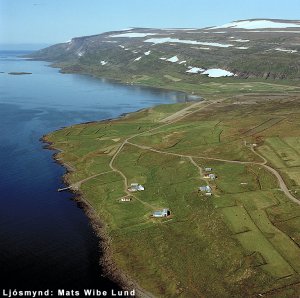 The Snjafjallasetur Heritage Centre was established in Dalbćr Snćfjallaströnd on the 12th of July 2003. The aim of the centre is to collect, categorize and preserve legends, rhymes, pictures and any remains connected to the settlement in the Snćfjallahreppur and Grunnavíkurhreppur parishes by making exhibitions, publishing, making a website and with conferences and various events.
In the first board of the centre are: Engilbert S. Ingvarsson, chairman; Hannibal Helgason, wise chairman; Páll Jóhannesson. Ólafur J. Engilbertsson is the manager of the centre and Ingólfur Kjartansson supervisor of exhibitions. The Snćfjallahreppur parish conmemoration comité has membership in the centre. The main basis of the Snjafjallasetur Heritage Centre is in Dalbćr, Snćfjallaströnd.
The main projects of Snjafjallasetur Heritage Centre since it´s beginning have been the following:
The exhibiton Desolated farms and fairy wights in the old Snćfjallahreppur and Grunnavíkurhreppur parishes, which was opened in 2002 and is the cornerstone to the centre. A complimentary book, published in 2003, that follows the exhibion is moreover a guide for travellers to the region, walking into the waste land of the Jokulfjords. The book is avilable in English.
The exhibition Kaldalón fjord and composer Kaldalóns was opened in 2004, conmemorating the composers famous songs connected to the region and the routes of the doctor serving in a region without roads, going over the glacier Drangajökull and the Kaldalón fjord.
The book Power of the river, conmemorating 40 years of electricity in the region, written by historian Helgi M. Sigurdsson, was published on the 20th of August 2005 with a feast of publication in Dalbaer and a small exhibition was being opened with equipment and tools from the first years of the plant.
Slayings of Spaniards in the West fjords in 1615 - an exhibition and a conference was held 24th and 25th of June 2006. Lecturers were Selma Huxley, Michael Barkham, Henrike Knörr, Jónas Kristjánsson, Torfi Tulinius, Magnús Rafnsson, Már Jónsson, Trausti Einarsson and Sigurdur Sigursveinsson. There was an excursion to the sites of the slayings, Ćdey and Ögur and there was also a program of entertainment. Steindór Andersen chanted rhymes by Jón Gudmundsson the wise and Jón Gottskálksson and Elfar Logi Hannesson premiered a one man act based on the writings of Jón Gudmundsson the wise about the slayings of the Spaniards.