21. Stadur in Grunnavík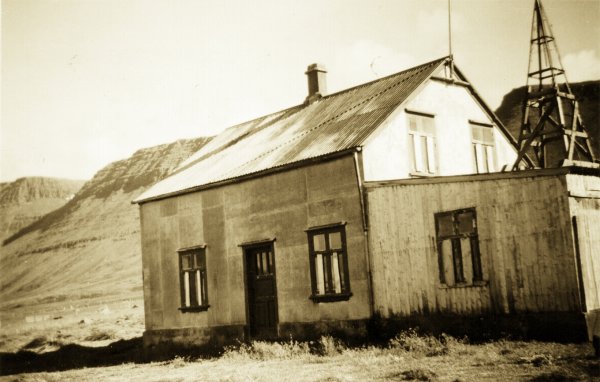 Stadur in Grunnavík is a church property from olden days, and the church is dedicated to the Virgin Mary. Seamen over the ages have made offerings at Maríuhorn, where the winds can be treacherous, with the offerings to Maríukirkja church at Grunnavík. At the National Museum there is a likeness of Mary from Grunnavík which is considered to be from the 15th century. In the book Vilkinsmáldagi it said that the church in Grunnavík owned fodder for one lamb at each farm, and two where there were two farms on the same land. Farmers were to take a lamb home in the winter, and return it to the church the next summer. This duty was required for a long time, and it can be seen in the sermons of Bishop Brynjólfur Sveinsson in 1643 and Bishop Jón Vídalín in 1700. In the Eyrarannáll annals of sheriff Magnús Magnússon, it was said that Bishop Jón Vídalín had "taken a lamb of Mary, as the Grunnavík church would get from every inhabitant of the parish."
There were 24 people living at Stadur in 1703, and 13 in 1801. In the Jardabók are mentioned two deserted farms on the land of Stadur, Midhús and Skálatún. In the beginning of the 18th century there were only ruins left and fields, and clearly no one had lived there that anyone at the time remembered. A number of renowned clerics were based at Stadur, such as Pantaleon Ólafsson in the 16th century, for whom Pontagil and Pontapartur,local places, are named. Kjartan Kjartansson took over the position from Pétur Maack, who went down with a boat on its way from Ísafjördur in the autumn of 1892. Kjartan built living quarters at Sætún, and was considered the model for Jón Prímus in Halldór Laxness' novel Christianity under the Glacier. Jónmundur Halldórsson took over from Kjartan in 1918 and was pastor at Stadur until 1954 when he gave up the post due to old age, in doing so becoming the final pastor of Grunnavík. Pastor Jónmundur was an even-tempered man. He wrote a journal which describes quite well how his life and work at Grunnavik was no dance on roses. Here is a fragment of his journal, one day in autumn of 1930.
"October 4. Terrible weather overnight and in the morning. Cleared up around noontime. tied up twenty horses at Nes. Cut and salted six ram carcasses. Made a barn floor for Marías at Faxastadir. Set some metal pipes and a machine in the cellar. Made two lids. Went on two trips to Sætún. ... A blizzard on its way to the east... Vagn from Furufjördur went west to get a boat for the animals, so there's no point in going north tomorrow. I need to help old Valdi."
Pastor Jónmundur officiated at the funerals for the men who died looking for Sumarlidi Brandsson, a mail carrier who disappeared off a cliff by Vébjarnarnúur just before Christmas of 1920. Sumarlidi had left from Stadur in Grunnavík by Snæfjallaheidi heath in ominous weather. While Pastor Jónmundur was presiding at the service, his house burnt down. After the fire the farmsite was moved, with a new house being built at Stadur in 1921-22. Stadarheidi heath lies under the slopes of Seljafjall mountain, along the so-called Tídagötur trail over to the Höfdaströnd coast. Another trail is north over Kollsárheidi heath, where you come to the farm at Kollsá.