20. Kerlingarstadir / Oddsfl÷t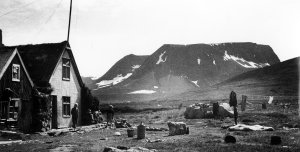 As best is known, Kerlingarstadir is first mentioned in the book GÝslamßldagi around 1570; the land at that time belonged to Stadarkirkja church, and did so for a long time after that. There were fourteen people living at Kerlingarstadir in 1703, and eleven in 1801, at two farms. The settlement got the name Oddsfl÷t late in the 19th century.
Gudfinna Ingibj÷rg Gudjˇnsdˇttir, who grew up there, said that in Hladsteinn, a large rock above and in front of the house at Oddsfl÷t, there had been seen hidden people. At Oddsfl÷t was the last turf house in GrunnavÝkurhreppur parish that people lived in. Gudmundur Pßlsson from H÷fdi and ElÝsa G. Einarsdˇttir from Dynjanda were among the final residents at Oddsfl÷t. They moved to ═safj÷rdur in 1942 after being denied permission to build a new house by the sea at GrunnavÝk. Jˇhann Jakob Jˇhannsson from Faxastadir lived after that at Oddsfl÷t for five years, and was the last resident there. Rag˙el HagalÝnsson bought the land then, smoothed out the old Kerlingarstaudr knoll, and used wood from the farm for the barn at SŠt˙n. Rag˙el was among the last group of people to leave GrunnavÝk in November of 1962. Rag˙el's house blew away in a blizzard in 1973.